Delbrook Senior High School
Final Details for the Delbrook 60 th..Reunion ..see left side of Home Page under " Delbrook 60 th Reunion Registration"
Hello Fellow Delbrook Grads of 1959-1960
Thanks for visiting our web site!!!
For those of you who are new to the site, please click on "Classmate Profiles", locate and click on your name to set up your profile . Please consult " First Time Visitors" for further information if required.
If you require any additional information please contact us .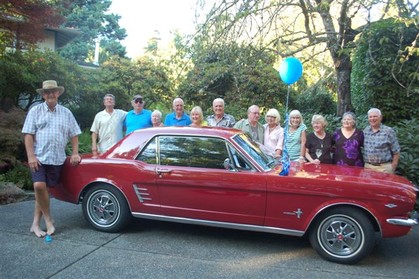 Reunion committee party August 10, 2014
We had such a great time together that we decided to convene regularily to discuss future events!!!
Missing from photo Ken Hick, Gavin Hume, Sandra ( Watson) Buddo, Steve Whitelaw.
Your reunion committee.
Jim Cox (Chairman), Phyllis Brown (Page), Lynda Chalklin (Cabianca), Dale Douglas, Rick Duncan, Stu Gibbs, Ken Hick, Gavin Hume, Roger Lundie, Lynn McLeay ( Spence), Neil McPherson, Liz Mains (Dickson),Sue Marshall (Arnet), Dennis Page, & Steve Whitelaw.